(cyathostomes spp)
The most common worm is the Small Redworm (cyathostomin spp) which can lead to encysted small Redworm disease if untreated.
When ingested, the larvae burrow into the lining of the intestines. They either develop and re-emerge to continue the life cycle, or stay in a state of hibernation in the intestinal lining-hypobiosis.
When temperatures increase in the spring, these hypobiotic larvae can all emerge at once causing severe damage to the intestinal wall which can cause weight loss, diarrhoea, shock and death.
You cannot directly test for the presence of hypobiotic larvae in the intestinal walls and only certain anthelmintics will treat these hibernating parasites.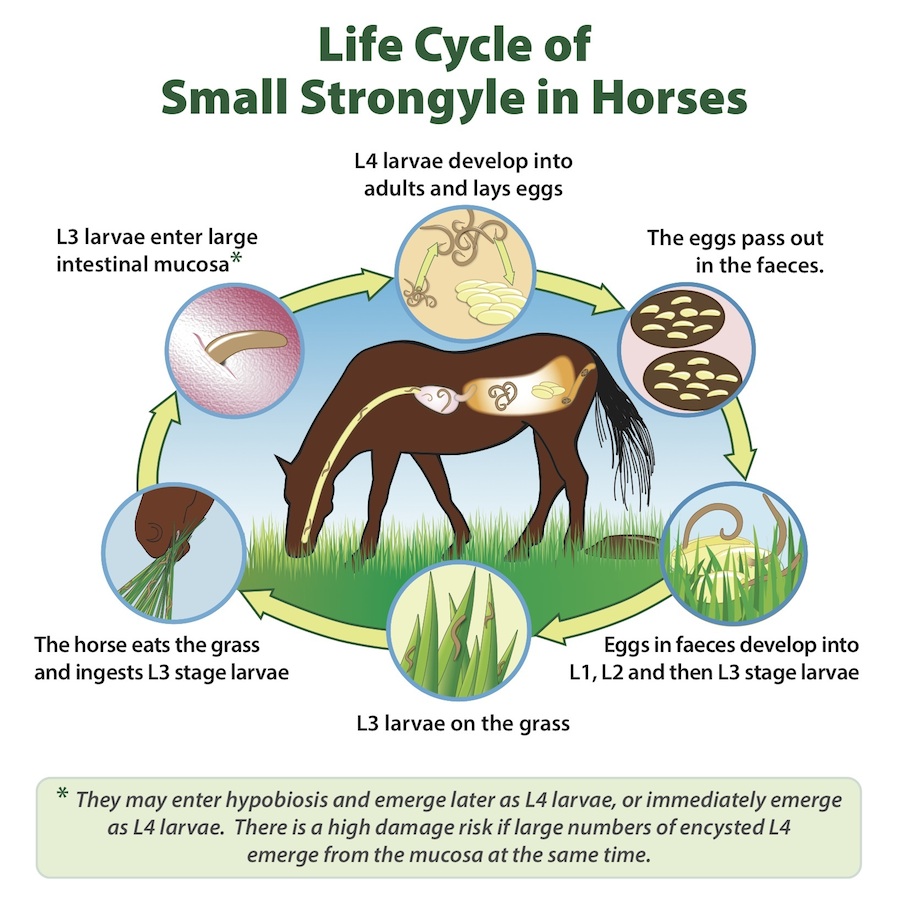 The Typical Life Cycle of Small Strongyles
The horse ingests grass which has stage L3 larvae on it.
The larvae enter the large intestinal mucosa. There it either undergoes hypobiosis (similar to hibernation) and emerges as L4 later or immediately emerge as L4. There is a high damage risk of large numbers of encysted L4 emerging from mucosa at same time
The L4 larvae develop and lay eggs
These eggs pass out in faeces
The eggs on the faeces develop first into L1, then into L2 and finally into L3 larvae
The larvae move onto the grass
The horse ingests grass and the cycle starts again
Which Actives Treat Small Strongyles (Small Redworm)?
| Ivermectin | Moxidectin | Ivermectin/Praziquantel | Moxidectin/ Praziquantel |
| --- | --- | --- | --- |
| | | | |
| Pyrantel | Praziquantel | Fenbendazole | Mebendazole |
| | | * | |
NB. A small redworm infestation can lead to the Encysted Small Redworm disease if untreated.
Which Actives Treat Encysted Small Strongyles (Encysted Small Redworms)?
| Ivermectin | Moxidectin | Ivermectin/Praziquantel | Moxidectin/ Praziquantel |
| --- | --- | --- | --- |
| | | | |
| Pyrantel | Praziquantel | Fenbendazole | Mebendazole |
| | | ** | |
NB. **If using fenbendazole to treat Encysted Small Redworm, a 5 day course is required